Welcome to
Hotel Certosa Venice
, search and book your room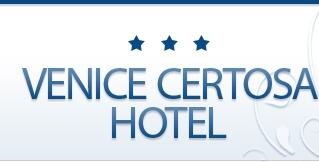 Home > Hotel
Venice Certosa Hotel is located in the Northern lagoon of Venice, on the island of Certosa and belongs to the nautical centre Vento di Venezia.

Our guests, staying in the lagoon of Venice, will enjoy nature keeping close to the historic centre and all the latest comforts. An enchanting environment, surrounded by lush native vegetation, still evoking thousand years of history from the first Augustinian monastery to the Charterhouse's ruins.

Reception from 8:00am till 01:00am
Night assistance on request

Late check-in after 20:00 have to be advised to the Hotel

Restaurant opening time:
Everyday for lunch except on Tuesday
Evenings from Thursday till Sunday (19:45-21:45) and on request on the other days.
Give us your Feedback
Venice Certosa Hotel, Isola della Certosa - Venice
HotelinVenice.com
Copyright © 2007 - 2019 | P.IVA# 03458490277